Peanut butter is generally safe for dogs to eat, as long as it does not contain the artificial sweetener Xylitol. However, strawberry jelly is not recommended for dogs due to its high sugar content.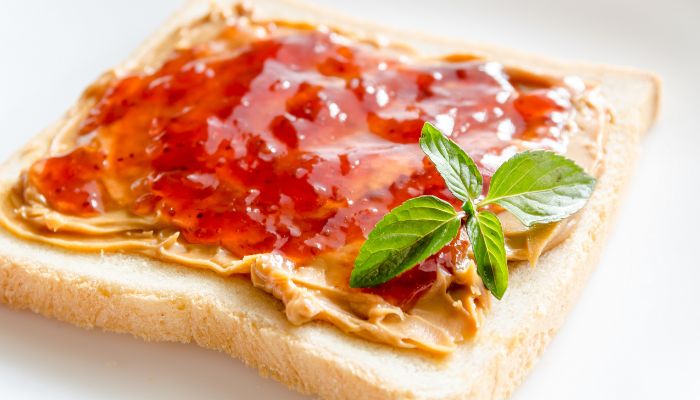 So can dogs eat peanut butter and strawberry jelly
Dogs love treats, and peanut butter and strawberry jelly are two popular options that many pet owners like to give their furry friends. But is it safe for dogs to eat these foods? In this guide, we'll explore the answer to that question, as well as provide tips for serving peanut butter and jelly to your dog in a safe and healthy way.
Are Peanut Butter and Strawberry Jelly Safe for Dogs? The answer to this question is a bit complicated. Peanut butter can be safe for dogs to eat in small amounts, but it's important to choose a brand that doesn't contain xylitol, a sugar substitute that is toxic to dogs. On the other hand, jelly is not safe for dogs to eat as it contains high sugar content which can cause obesity and dental problems. However, there are some dog-safe jellies available in the market which can be given in small amounts as a treat.
Related article: Can a Dog Eat a Peanut Butter and Jelly Sandwich?
How to Serve Peanut Butter and Jelly to Dogs
Check the ingredients list for xylitol before giving your dog peanut butter.
Use a small amount of peanut butter as a treat, rather than a regular part of your dog's diet.
Only give your dog jelly made specifically for dogs, which is low in sugar and doesn't contain any artificial sweeteners.
Serve peanut butter and jelly separately, rather than together, to limit the amount of sugar your dog is consuming.
Keep an eye on your dog's weight and adjust treat portions accordingly to prevent obesity.
Homemade Dog-safe Peanut Butter and Jelly Recipe
1 cup of all-natural peanut butter
1/4 cup of mashed strawberries
1/4 cup of water
1 tsp of honey (optional)
Mash the strawberries in a small bowl and set aside.
In a separate bowl, mix the peanut butter, water, and honey (if using) until well combined.
Stir in the mashed strawberries until evenly distributed.
Spoon the mixture into an ice cube tray or small silicone molds and freeze for at least 2 hours.
Serve as a treat, storing any leftovers in the refrigerator for up to a week.
Conclusion
While peanut butter can be safe for dogs to eat in small amounts, jelly is not recommended for dogs due to high sugar